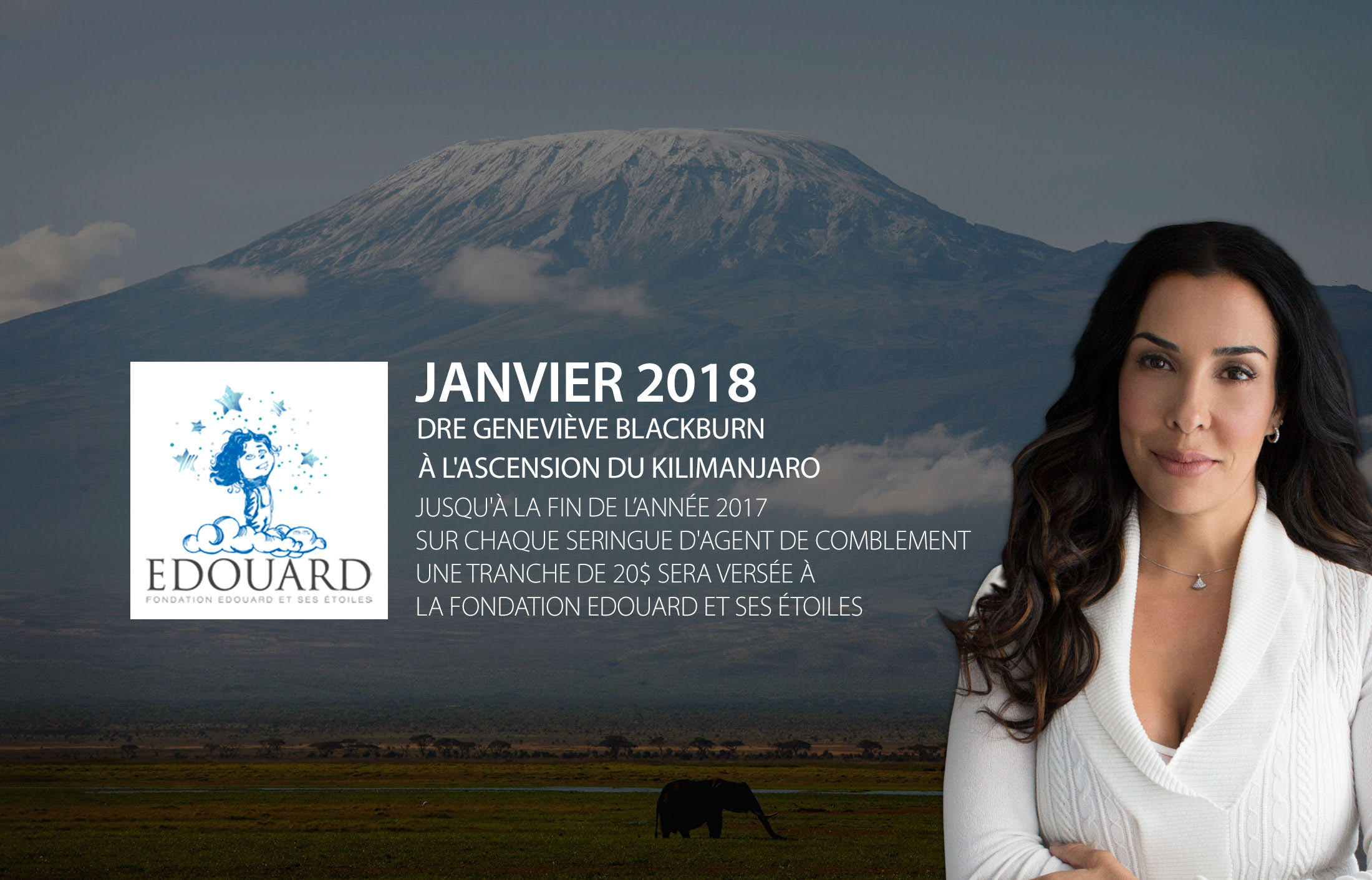 The apex of all challenges: Climbing Mt. Kilimanjaro
Recognized for her iron will and natural disposition to tackle the toughest challenges, Dr. Blackburn decided to tread on unusual terrain… at least for those who know her girly side well!
In January 2018, the one who had never hiked any mountain, no matter how modest in size — not even Mont St-Bruno! –, Dr. Blackburn decided to embark on an feat of extreme endurance that some of the most seasoned athletes would have a difficult time contemplating: climbing gigantic and majestic Mount Kilimanjaro, in Tanzania.
One of the world's highest peaks, the Kilimanjaro is a prized destination for extreme tourism.
"When my friends told me that they were organizing this trip, I said immediately said yes, but I had no idea what I was getting into! Even the salesperson at the sports equipment store where I was buying my gear practically laughed out loud when I told him I was going to hike Kilimanjaro", says, all smiles, Dr. Blackburn about prepping for this adventure in extreme travelling.
As part of their quest, the group from Quebec with whom Dr. Blackburn went on this expedition had decided to raise funds for an important cause, the Fondation Edouard et ses Étoiles, benefiting children with cancer. With her generous spirit, Dr. Blackburn immediately got involved. And during the month of November 2017, for each syringe of fillers sold for enhancing treatments, $20 was given to the cause.
Trying ascent
When climbing a mountain as colossal as Kilimanjaro, the human body must adjust to the extreme variations in temperature – which can vary from 0 ° to -20 ° Celsius in a single day –, and also adapt to breathing air containing lower amounts of oxygen, which may cause altitude sickness, and can even be fatal in extreme cases.
"Breathing becomes heavier, and the body produces more red blood cells. Once you reach the peak of the mountain, even speaking can be difficult. It makes you feel very much alone with your own thoughts," explains Dr. Blackburn.
Dr. Blackbrun's teammates also describe how trying this feat of endurance can be for anyone.
"The last summit is one of the most difficult to conquer. We started the climb at midnight, having walked the entire previous day (about 10 hours). It was cold and we walked very slowly for seven hours. If you stopped for more than three minutes, you literally froze. This is a journey requiring an incredible amount of mental strength and iron will. Gen was very generous, physically and mentally, towards all of us. Some people in the group became ill, and we were lucky enough to have a doctor like her on our team. She's a very authentic person."
Extreme mental strength
"You can't feel intimidated to be part of a group when you embark on this kind of journey, on such a huge mountain," says Dr. Blackburn, "because you get to know each other very, very well. There are no private toilets, and everyone is around you. So, you can imagine a little bit what that means…"
Were they were surprised to see Dr. Blackburn take part in such an extreme expedition? 'Absolutely not!'
"When I asked if she wanted to join me, I thought she was going to tell me I was crazy. But she immediately said, 'sure, let's go!'. She has an incredibly adventurous spirit, like me, and right away she saw the opportunity to grow that would come out of it, knowing full well that we didn't really know what to expect!"
Despite the incredibly long hours of walking slowly (the guides kept repeating 'pole pole', which means 'go slow' in Swahili to tame the mountain without getting sick), "Gen was always super positive and humorous. She never hesitated for one second to help others overcome the side effects of mountain sickness, as well as the other unpleasant sensations that can occur at very high altitude. She always helped us keep our positive attitude.
After that other-worldly experience, when asked if she would do it again, Dr. Blackburn is quick to reply: "I climbed Mount Kilimanjaro once, and that's it. But I'm game for another big challenge, anytime! When I set my mind on something, I always go the distance."